Today is Earth Day.
Saint Francis of Assisi
and
Blessed Kateri Tekawitha
are patrons of the environment(-alists) and ecology (-ists).
Saint Francis is well-known for his love of nature, a love that came out of his love for Jesus Christ. St.Francis' "
Canticle
" starts with praise of God and blesses the Lord for his creation. He refers to creation as his brothers and sisters because the share a common Father. Concern for creation properly comes out of love for the Creator.
A contemporary St. Francis was Rich Mullins. Several of his songs, like "
The Color Green
" share a sensibility with St. Francis' "Canticle." Rich Mullins started
Kid Brothers of St. Frank
,to help train other men in the Christian faith and outreach. Mullins was killed in a car accident in 1997. His family continues this legacy.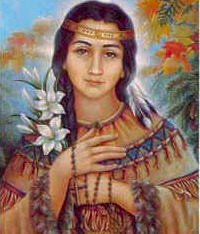 I imagine Rich, St. Francis and Blessed Kateri praying that our love for the Earth will flow from our love for Jesus Christ.